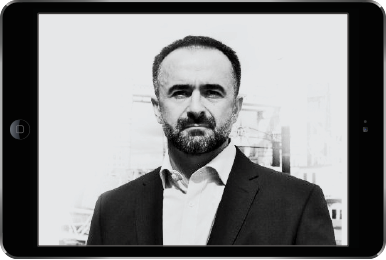 Fredy Vasilev founder and CEO
The world was created with an open protocol; and it is our duty now to evolve it in a divine way.
We started with bath automation, making the bath a better place, i.e. way more responsive to the needs of people of different background and perspectives. It took us years of elaboration but it's in our power now to design a positive answer to any inquiry, no matter who's asking.
Unlike the outcome, our story is not unique — overcoming the obstacles of life in the name of love. Once upon a time there was a little disabled princess who had troubles communicating and controlling her world. So I wanted to give her a magic wand which would make her the master of: lights, audio, video, etc. Unfortunately back then there was no such thing on the market.
To create it became my only option!
Blood, sweat and tears, i.e. money and time! I bought a new house and made it a demo one. Introducing domestic technology in each functional zone I couldn't skip the bath, of course. And I was no stranger there as building bathrooms was in my background. Having put all my other business on hold, I fully committed to designing the revolutionary digital bath filler, allowing everyone to control everything in a snap of fingers. Ideas, drawings, testing, prototyping…
Before long I realized my invention was going to not only empower the powerless, as initially intended, but also – if not mainly – celebrate quality life vs. everyday chores which, as a father of two then, I was quite familiar with. Preparing a bathtub for babies & adults became as easy as making a wish. For all. It had the instant wow effect on people around me, who insisted that I'd share it. Thus I knew I've reached a point of no return. Bathomatic was launched on the market.
I moved the finish line and surrounded myself with inspiring team players: Cosma Papouis, Emil Donkov, Patryk Grzesiak, Richard Hills, Barry Ingham and many others. Each of them in hold of some unique power. In happiness and in strife, we developed the bathomatic's family. In the following years bathovision, bathomatic bathler, iShower, Sky Shower, stemomatic and the WoW Switch hit the market one by one.
So I've been given the chance to recharge my batteries again: kitesurfing, snowboarding, marathon running, biking. Every time though coming back to a mildly hot bathtub, hallmark of home. No bustle and hustle anymore, just pleasure.
Old tech is in drench mode. Unique Automation re-developed bathroom service (rebranded as bathler), inviting high-end hotels to polish their 5th stars. It's a cloud based service, allowing control  from reception or guests to control the bath equipment via their smart phones (iOS, Android). For if you don't expect your guests to change sheets, why would you make them care for bath preparation and stuff like that?!
Due to public demand we also released an Amazon Alexa skill. What we first thought was just another caprice soon proved us wrong. Again a client with special needs – a young lady with extremely sensitive skin, uncapable of touching any surfaces – was given the freedom of independence for the first time in her life.
In our factory we deal with hardware & software. But what we put on (and off) the shelf is: convenience, safety, independence, sustainability.Believe it or not right now you are just a click away from a totally different lifestyle. For what may seem as having fun at the beginning is soon to become something you can't live without. And if you are not reading this on paper, you know what I'm talking about.
Fredy Vasilev, technopreneur, CEO at Unique Automation