A smooth Corian® bath packed with hi-tech features which comes to life when required. At the touch of a button the bath fills to perfection and keeps the water warm for hours.
The TV pops up and you can spend hours surfing the net and social networking, enjoying the built-in whirlpool system.
Alternatively, just relax with your favourite movie in 5.1 surround sound and chromatography.
bathomatic eco whirlpool ultimate – limited
Water depth control
Temperature control
Programmable Presets
Perfume and bubble bath dispenser
Chromatherapy – RGB LED light control
Jets control – whirlpool system with 28 "stealth jets"
Blower control
24″ Media Player TV
Completely hidden when not in use and sleek and beautiful when in full swing. This waterproof TV has heated glass screen, silent hoist lifting and is full of features some of which are below:
Multi-format support:

Supports all major video, audio and photo formats, including AVI, MOV, JPG, WAV, MP4, MP3, FLAC and Internet radio broadcasts.

Video-on-Demand from all over the world:

Video programmes can be streamed from BBC® iPlayer* for virtually unlimited selection and flexibility no matter where you are.

Internet surfing:

Thanks to the solid internet functions you can freely visit web sites and social networks without using a PC.

Full HD video and audio support:

Full HD and high-fidelity Dolby® Digital audio through the all-digital HDMI 1.3 interface as standard.

Versatile connectivity:

Built-in Ethernet, e-SATA for external storage and uPnP file access via the Internet or home intranet.

Social network supports:

Take advantage of Internet social networking and sharing resources like RSS broadcasts, Flickr, LinkedIn and Facebook
Champagne chillier
Space for one bottle and two flutes
Completely hidden when not in use and silently brought up when required. Auto chill when a bath is drawn utilising Peltier effect chiller, which cools the champagne by outputting the excess heat to bath water and maintaining perfect temperature as long as needed
Other features
Stealth speakers excite the bath material in 5 carefully chosen locations to reproduce perfect sound for a 5.1 surround sound
Solid-state touch interface – includes control of all of the above features and is invisible without touch.
Solid-state pop-up keyboard with integral pointer pad.
iPhone, iPad control
Motorised pop-up hand shower
Dimensions
mm
inches
Length:
1,800
70.87
Width:
900
35.43
Height:
600
23.6
Weight:
Empty: 207 kg
Full: 580 kg
456.36 lbs
1,278.68 lbs
Volume:
370 litres
391 quarts
Performance:
| | |
| --- | --- |
| Fill time: | 10 minutes |
| Sound Channels: | 5.1 surround |
Technical Data:
Water fill rate:
40 litres (42.27 quarts) per minute at 4 bar
Whirlpool pump:
1 horse power, 20m

3

 per hour
Whirlpool heater:
2 kW
LED colour light:
2 W (54 RGB LEDs)
Sound:
800 W
Supply voltage:
220-240 V AC, 50 Hz. Please enquire about USA options
Requirements
:
iPhone, iPad or iPod touch
iOS 8.3 or later
bathomatic system wired to a network with WiFi access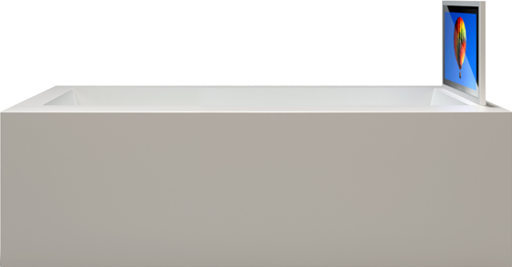 bathomatic eco whirlpool ultimate – limited
Water depth control
Temperature control
Programmable Presets
Perfume and bubble bath dispenser
Chromatherapy – RGB LED light control
Jets control – whirlpool system with 32 "stealth jets" configured to customer's specific ergonomics in multiple zones
Blower control – multiple zones
24″ Media Player TV
Completely hidden when not in use and sleek and beautiful when in full swing. This waterproof TV has heated glass screen, silent hoist lifting and is full of features some of which are below:
Multi-format support:

Supports all major video, audio and photo formats, including AVI, MOV, JPG, WAV, MP4, MP3, FLAC and Internet radio broadcasts.

Video-on-Demand from all over the world:

Video programmes can be streamed from BBC® iPlayer* for virtually unlimited selection and flexibility no matter where you are.

Internet surfing:

Thanks to the solid internet functions you can freely visit web sites and social networks without using a PC.

Full HD video and audio support:

Full HD and high-fidelity Dolby® Digital audio through the all-digital HDMI 1.3 interface as standard.

Versatile connectivity:

Built-in Ethernet, e-SATA for external storage and uPnP file access via the Internet or home intranet.

Social network supports:

Take advantage of Internet social networking and sharing resources like RSS broadcasts, Flickr, LinkedIn and Facebook
Champagne chillier
Space for many bottles and many flutes on many lifts
Completely hidden when not in use and silently brought up when required. Auto chill when a bath is drawn utilising Peltier effect chiller, which cools the champagne by outputting the excess heat to bath water and maintaining perfect temperature as long as needed
Other features
Stealth speakers excite the bath material in 5 or 7 carefully chosen locations to reproduce perfect sound for a 5.1 or 7.1 surround sound
Solid-state touch interface – includes control of all of the above features and is invisible without touch.
2 x Solid-state pop-up keyboards with integral pointer pad.
iPhone, iPad control
Motorised pop-up hand shower
Dimensions
mm
inches
Length:
1,800
70.87
Width:
900
35.43
Height:
600
23.6
Weight:
Empty: 207 kg
Full: 580 kg
456.36 lbs
1,278.68 lbs
Volume:
370 litres
391 quarts
Performance:
| | |
| --- | --- |
| Fill time: | 5 minutes |
| Champage Chiller: | 1 bottle, 2 flutes |
| Perfumes: | 8 scents |
| Sound Channels: | 5.1 surround |
Technical Data:
Water fill rate:
80 litres (84.5 quarts) per minute at 4 bar
Whirlpool pump:
1 horse power, 20m

3

 per hour
Whirlpool heater:
2 kW
Whirlpool blower:
640 W, 1.1m

3

 per hour
LED colour light:
2 W (54 RGB LEDs)
Champagne Chiller:
300 W – 210mm x 155mm x 340mm (WxLxD)
Sound:
500 W
Supply voltage:
220-240 V AC, 50 Hz. Please enquire about USA options
Requirements
:
iPhone, iPad or iPod touch
iOS 8.3 or later
bathomatic system wired to a network with WiFi access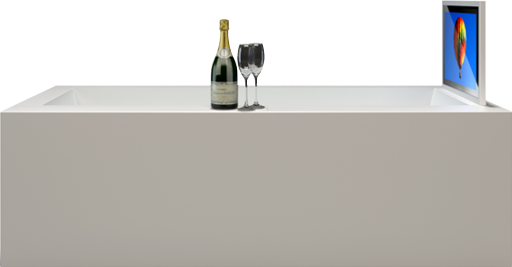 Water depth control
Water temperature control
9 Programmable presets
Solid-state waterproof touch interface (3DB) in black
Motorised drain with overflow filler in polished chrome
Patented solution
Fits all baths with standard drain and overflow cut outs
Motorised pop-up hand shower
Double sided TVs – view the screen and access the content from either side
| | | |
| --- | --- | --- |
| Dimensions | mm | inches |
| Length: | 2,000-3,000 | 78.74-118.11 |
| Width: | 900-1,200 | 35.43-47.24 |
| Height: | 600 | 23.6 |
| Weight: | Varies | |
| Volume: | Varies | |
Performance:
| | |
| --- | --- |
| Fill time: | From 5 minutes |
| Champage Chiller: | 1 bottle, 2 flutes |
| Perfumes: | 8 scents |
| Sound Channels: | 5.1 ot 7.1 surround |
Technical Data:
| | |
| --- | --- |
| Water fill rate: | 80-500 litres (84.5-528 quarts) per minute at 4 bar |
| Drain rate: | 2x-10x faster |
| Whirlpool pump: | Multiple pumps and zones |
| Whirlpool heater: | Up to 8 kW |
| Whirlpool blower: | Multiple blowers and zones |
| LED colour light: | Any RGB LEDs configuration |
| Champagne Chiller: | Multiples of 300 W – 210mm x 155mm x 340mm (WxLxD) |
| Sound: | 1 kW |
| Supply voltage: | 220-240 V AC, 50 Hz. Please enquire about USA options |
Requirements
:
iPhone, iPad or iPod touch
iOS 8.3 or later
bathomatic system wired to a network with WiFi access